Like everyone else, David Pogue tested this morning the application Google Maps [1.0 - French - Free - Google, Inc.. ] comes out. In his article published in the New York Times , journalist slides turn of a phrase amazing information. 's own admission of Google, the iOS version of Google Maps is better than that offered on Android .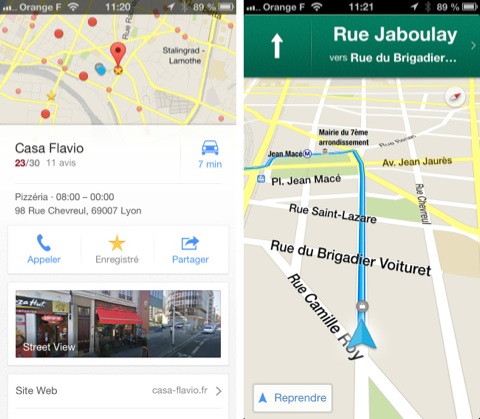 Read more..
Ever since the launch of the first iPhone, Apple has been popular for doing 2 things every year; introducing a new iPhone, and releasing a new version of iOS. And Apple has done it again. Nope, it's not a new iPhone, it's the introduction of iOS 6, the latest version of operating system for Apple's iOS devices (iPhone, iPad, iPod Touch). It hasn't been long since iOS 5 was released, but Apple has identified the gap, and (successfully) tried to fill it with iOS 6. So let's go through some of the major improvement and features that iOS 6 has to offer. Read more..
Spotify App for iPad is now released and it can be downloaded via iTune App Store. It was the long awaited App for iPad, which is now officially announced released. Now iPad users can stream videos via Spotify but it is not for free. Yet having long fully usable Trial version of 48 hours has been pushed out in iTune App Store and after that Spotify can be bought at $ 9.99 per month with Premium features. Now Full HD retina display The New iPad will be able to stream with Spotify. Read more..
Premium TV shows comes to iPhone 4S via iOSLiveTV App, which bring lots of Premium TV shows for Free. yep now it is officially announced that iOS users and iPhone 4, 4S users can watch the TV shows even the Premium TV shows like BBC One, Three, Channel 5 and others which were not offered previously free. but now more fun more shows in your palm if you are holding iOS devices.
Well after Galaxy Y, now it is Galaxy Nexus turn to get update and install ICS 4.0.4 official android firmware inside Galaxy Nexus. I assume that you guys are well known with the Odin thing. Because it provide the good information regarding the downloading and update process. And consider as reliable process tool for the update. So guys who are holding Galaxy Nexus get ready to use Official ICS 4.0.4 on your Galaxy Nexus. Read more..
Mac and iPhone users will be familiar with Sparrow, as they may be using it as Email Client Service App, which includes all the IMAP services as a client App. Sparrow is right now missing only one feature, which is considered to be very important for the users of business class. People who need to be mobilized want to have push services for their email accounts. So Sparrow Developer Team already intimated that Sparrow 1.2 will be coming out with Push Services. Read more..
We have been using the browser so far which are built-in for iPhone or Android Phones. Mostly Android uses Google as its primary search engine but now users like to move and want to use other search engines as well as per their own likings. So Dolphin Browser is the one, which is providing different features like Voice Controller / Assistant and Four Search Engine integration in one browser for the users, who use different apps other then built-in. Read more..
Air Playit certainly making some very good differences in iPhone 4S, where video streaming is a real feature for it. Believe it or not, iDevices are now becoming some of the best media playing devices. As a big fan of them myself, I watch videos on my iOS device such as, iPhone 4S and iPad 2, all the time. But here comes a hurdle that I have to convert those media to compatible formats for playback on my iOS device. So a real good video streaming application for iOS 5 on iPhone 4S and iPad 3 / iPad 2 is never unwelcome. I tried plenty of software, which boasts that it can perfectly stream video and audio on my iPhone 4S. This time, I come across Air Playit and give it a try. The best thing is that this app is completely free. Anyway, I must say I am impressed. Read more..
Well it all about tweaks and getting free versions, and here is tweaker Airblue Sharing 0.9.11 Free Version which is highly recommended for the multiple file sharing between iPhone and Android Phones. And guys what iPhone 4S and Samsung Galaxy S2 can be in relations via using Airblue Sharing 0.9.11 free version, through which user can push and receive the multiple files like Photos, videos and documents etc.  Read more..
We have been after tweaks that are useful and creative enough for the Users and we just found Tweak to select Mac Screen Savers as Desktop Backgrounds. Mac users must have had use the Screen savers for the battery saving purpose while idling the machine but never though about putting the screen savers use as desktop backgrounds. Most of the tweak we presented is of Microsoft Windows 8, Windows 8 and Windows XP, because i belongs to microsoft influenced environment but i just found one tweak which i think will be very interesting for the MAC users. Read more..